Our time at Shed Builder Expo 2021
We just wrapped up at the 2021 Shed Build Expo and had a great time meeting many of our existing clients, as well as talking to a number of awesome companies, including shed builders, haulers, suppliers and more!
This was our first actual industry trade show so I thought I would write and outline a few of the things we learned while we were there and some of the experiences we had.
How our Shed Builder Expo booth ended up coming together
I'm not trying to brag or anything, but for being our first booth ever at a trade show, it came together pretty well.  First off, we were able to score a prime location right by the door.
Next, we wanted to be able to have a demo running of several of the sites we had done, as well as a walk through of our shed builder plugin and our CRM System, so we got a table with power and set up that demo on my MacBook Air.
As far as our booth graphics went, we did spend a little extra on this part and it paid off well.  We got plenty of compliments on the booth design and compared to many of the others, it really stood out.
Since we have an in-house design staff, we created the look and feel of our booth and all of our materials in-house. Our friends at Signs Now Oklahoma City hooked us up with all of the needed graphic templates for the backdrop and tablecloth, and once we ordered, they shipped them directly to the venue for us.
Here is a look at how it turned out: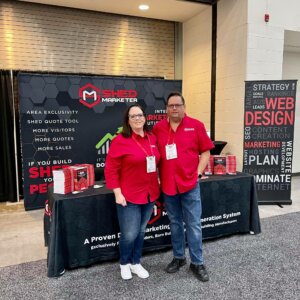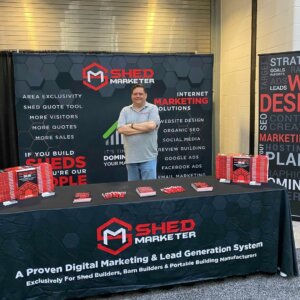 Our First Shed Builder Expo Experience In A Nutshell
Before the show, there were a lot of moving parts.  Fortunately for us, we were able to get our backdrop, table cover, stand up sign and an inventory of books (Oh yeah, we gave away a LOT of books!) shipped direct to the venue, and they were waiting at our booth location for us when we got there.
Getting set up was quick and easy. We overestimated the time it would take to get set up. We made sure to get there bright and early, and were finished bright and early also.  Next time, we'll sleep in. I posted a behind the scenes video walk-through of the floor right before the doors were open.
The awesome folks at Cardinal Manufacturing gave me my first lesson in driving a mule.  Many thanks to the young girl (I'm sorry I didn't catch her name!) that showed me the ropes. Keep in mind I am a marketing guy, not a shed installer so if you want some laughs you can watch the video on my Facebook page.
We got to meet Shannon & Kyle from the Shed Geek Podcast in person while we were there. It's too bad we didn't get to spend more time with each other but they had a booth, we had a booth and we both kind of needed to stick close to home base so to speak. (PS – I have a feeling you will be hearing from me on their show soon!  Hopefully we will be able to rope them in as guests on our own Success In Sheds Podcast soon, too!)
We had several of our awesome customers drop in and say hi to us.  Since we work with shed builders all over the country it was awesome to be able to meet them in person. We got some great, actionable feedback and testimonials from them that will help us improve our services and help even more companies succeed.
Lessons Learned: Things we will do different next time
First off, since we offer exclusivity to our clients (75 miles around builder location and 25 miles around sales lots) we found the need to create a map that shows where we can accept new clients and where we are already committed. (This is already in development and will be launched on our website soon as well.)
We had a lot of interest in our CRM system and its capabilities. Next time we're going to spend even more time demonstrating this in our on-screen presentation.
Speaking of our on-screen presentation, moving forward, we're going to incorporate a large, flat screen display into our booth setup.
Don't forget the little things!  When we got there, we realized we didn't have any business card holders or rack card holders to display our various SWAG. We made due without them, but we're going to add it for our checklist for next time.
What did you think?
Were you at the expo?  We'd love to hear your experience there whether you visited us at our booth or not.  Feel free to leave us a comment!